Design & manufacturer of lead light windows and decorative glass craftware in Moulton village, near Northwich, Cheshire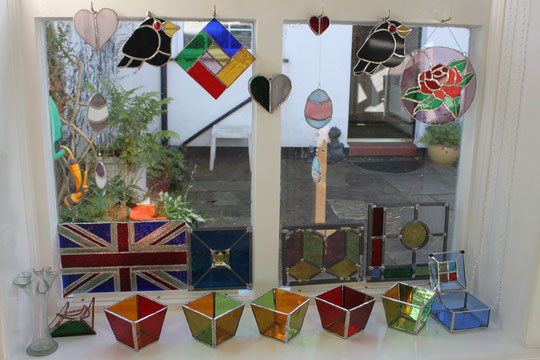 Welcome to Moulton Glass website.
I started making leadlights and copper foil items after attending evening classes eight years ago - this has now developed from a hobby to a small business, which I run out of a renovated outbuilding at home in the village of Moulton, near Northwich in Cheshire.  
From the first early cuts (glass not me!) and by gaining experience I have developed a range of products from small light catchers, 3D terrariums & jewellery boxes, to full size lead light windows.
Glass comes in hundreds of different textures, colours and thicknesses. Every item on this site is hand-made in any colour combination you wish (subject to availability of the glass), therefore any prices on this site are approximate and depend on complexity of the design and number ordered.
If there's something special you're looking for, I can make and/or design unique one-off pieces just for you. Please don't hesitate to contact me to discuss any projects / ideas you have.
Prices do not include postage, packing or insurance if required.
I hope you enjoy the website and some of the new developments - the canal/narrowboats section shows details on my current projects.
Andy
SAFETY NOTE - Glass is dangerous if dropped or damaged. Glass ornaments are not toys and care should be taken when handling, moving or displaying these products.