Moulton Village is less than half a mile from the Newbridge moorings on the River Weaver Navigation. It is good to see the increase in users of the river, with boats moored up overnight at Newbridge or nearby Vale Royal moorings.
MoultonGlass will be starting a range of products for inland waterways enthusiasts. These products will be either be purely decorative, capturing the historical designs and colours found on narrow boats,  for example light catchers; or they will be decorative and functional, for example lead light cratch or cabin windows.
I will also be doing some prototypes of images of individual narrowboats as light catchers where a photograph can be interpreted in glass.
So here are some inspirations from decorations on the 'top bend' (bow/front/pointy bit!) and sterns of narrowboats Friendship and Ilkeston, on display at the National Waterways Museum.
Designs & materials:
There are two key pattern types here - the compass rose (six petal roundel) design and the diamond or harlequins.
The pattern designs are quite simple; the colours are strong red, blue, white, maroon, orange, yellow and green.
A light catcher works by allowing light through it, so opaque colours - whilst being closest to the original designs - may not be as effective when hung in a window.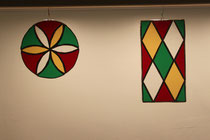 Here are 2 of the glass creations inspired by the canal boat photos.
These items are both for sale at the Blakemere Craft Centre.